It's so easy to add pictures !!
The best way to get your message across is with a picture, and you'll be amazed at how easy it is.
Simply add the URL of the JPEG or GIF file of your picture on the sell application form.
Sound confusing? Well it simply means putting your picture on a website somewhere (maybe one of the free providers) and then entering the URL of the picture for your item to list it. The URL (Uniform Resource Locator) is simply the web address of the picture. Find it by right clicking on the picture you want to reference from your browser and selecting 'properties' - as below.
STEP 1: Find the picture you want on the internet of your property. For example the house below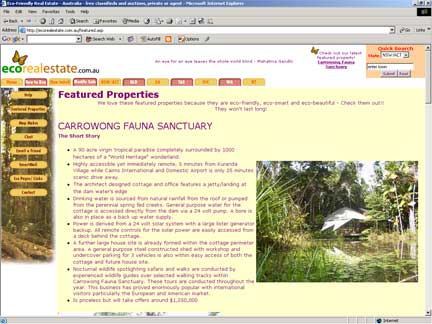 STEP 2: Position your mouse on the picture somewhere, right click and select properties.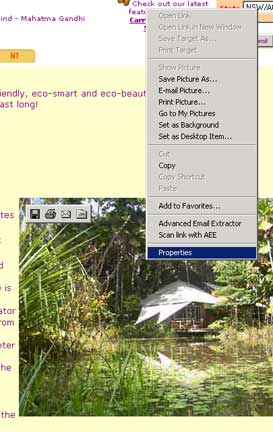 STEP 3: Copy the URL (in this example - http://envirorealestate.org.au/images/customers/rob1.jpg) and paste it (or retype it) into the sell form for your property. Remember that your URL should start with 'http://' and finish with '.jpg' or '.gif'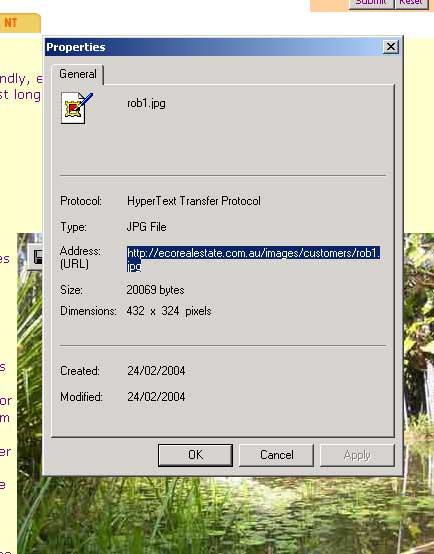 OR UPLOAD your pictures (at a recommended donation of $1 per photo)
The option to upload your pictures comes after the main form is submitted. You need to make sure your pictures are in the correct format (either JPG or GIF). If you need to reduce the file size of your photos (and you have no desktop software capable of carrying out this task), you may choose to download a small program that will allow you to resize your images on your desktop. You can download a free program called Irfanview at http://www.irfanview.com

Still confused?
If you are still confused or it's too much trouble to get your photo on the web, you can simply email us with your photos and we will place them on envirorealestate.org.au for $1 per photo, or if you have physical photos - mail them to us, and we'll scan and put them on the web for $2 per photo. What could be easier? (please make sure that each photo is not more than 200k in size)
For those a little more technical
For each property your first picture is taken as the feature picture and its thumbnail is therefore listed the largest at 480 pixels wide - you can specify whatever height you want. Every subsequent picture is thumbnailed to 240 pixels wide. Our recommendation is to not list pictures that are greater than 20k in data size (otherwise the page will take too long to load).
If you need any help - email us
Mail physical photos to:
EnviroRealEstate
731 Pacific Drive,
Deepwater, Qld 4674